SETH KIBEL
Clarinet, Saxophone, Flute
Find me elsewhere on the interwebs
Previous events
Seth Kibel -- clarinet, flute Sean Lane -- piano
No cover!
Both in-person and live-stream tickets available!!
While New York City may pridefully boast of being the capital of jazz, Baltimore and Washington DC have produced more than their fair share of jazz luminaries. Woodwind wizard Seth Kibel and his musical cohorts will pay tribute to some of these American icons, including Billie Holiday, Chick Webb, Eubie Blake, Duke Ellington, and more. Expect to hear familiar melodies and rare gems from the Swing Era and beyond.
Seth Kibel -- clarinet, flute, saxophone Sean Lane -- piano Bob Abbott -- double bass Wes Crawford -- drums Flo Anito -- vocals
In-person tickets -- $20-$25. Live-stream tickets -- $10.
BREAKING NEWS!!!

3/18/2022 -- Today is RELEASE DAY for my BRAND NEW (digital only) album, "Clarinetflix & Chill!"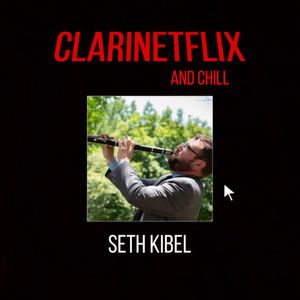 It features five brand-new original instrumental compositions by yours truly, drawing upon a myriad of musical influences, not the least of which are swing and klezmer.
Click here to download it from the artist-friendly folks of Bandcamp!
Or click here to stream it from any of the major streaming platforms!
Welcome to the on-line hub for Seth Kibel, one of the Mid-Atlantic's premier woodwind specialists. Working with some of the best bands in klezmer, jazz, swing, and more, and wowing audiences on saxophone, clarinet, and flute, Seth has made a name for himself in the Washington/Baltimore region, and beyond.
Featured performer with The Kleztet, Bay Jazz Project, Music Pilgrim Trio, The Natty Beaux, and more.
Winner of 28  Washington Area Music Awards (Wammies), including "Best World Music Instrumentalist" (2003-11) and "Best Jazz Instrumentalist" (2005, 2007-8, 2011-14).

 Seth Kibel is proud to use Rovner ligatures and clarinet barrels.
Seth Kibel: When You're Smiling
Instrumental jazz, swing, and klezmer from one of the Mid-Atlantic's premier woodwind specialists.
Seth Kibel: clarinet, tenor saxophone, flute
Sean Lane: piano
Bob Abbott: double bass
Nick Ruggieri: drums

Produced by Seth Kibel. Recorded and engineered by Mike Monseur at Bias Studios, Springfield, Va. Mixed and mastered by Steve Steckler at Asparagus Media, Takoma Park, Md. Album design by Sandy Alexander. Cover art by Gina DeLuca. Seth Kibel uses Rovner ligatures and barrels.